Early Doc Journalism 5
Class Notes- Amy Roy and Richard Watson- Thursday, July 30, 2009
Early Documentary and Journalism
Photography is allowing people to see the world, and begins to work its way into everyday life. Improving technology, like the Brownie camera, leads to the snapshot idea of photography, and people begin experimenting with color photography.
Also photographs start being reproduced in the news, allowing for more widespread access. Vernacular photography, or photography "of the people" is on the rise, as the art becomes more affordable and usable. http://www.vernacularphotography.com/
Henry Lartigue, a child born in 1892 in France, starts photographing around age 7. (http://www.photography-now.net/jacques_henry_lartigue/portfolio1.html) This is during the "beautiful era" in France, around the time of the Worlds Fair (1889) and the debut of the Eiffel Tower. Lartigue photographs "My Hydroglider with Propeller" in 1904. His other photos include:
-Foret de Marly Ma Cousine Simone -1913 (his cousin doing somersaults and goofing around in front of camera)
-Wheeled Bobsleigh-1911
-Zissor (his older brother)
-Car Trip-1913 (rich people with racecars)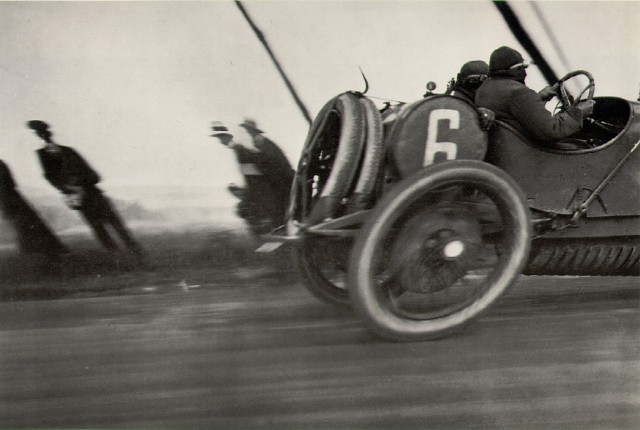 All of his images fit the vernacular category, as they are about his daily life with his rich family. The images are also interesting because they give us an inside look into the life of leisure of this family, and their foray into new technologies, with cars and flying contraptions, etc.
Bellocq began phtoographing prostitutes in the Red Light District in New Orleans aroud 1912. This was during the Victorian age, where sex was very taboo and thus led to an underground sex life. These photos were part of Bellocq's secret work, and in 1912 he calls it "Storyville," which are images of nudes with masks. This gives viewers a look past the Victorian facade of stoic purity.
http://storyvilledistrict.tripod.com/bellocq_women.html
The German photographer August Sander photographs "Young Farmers" (probably farm owners, because they are dressed so nicely) in 1913, and is photographing after WWI. He starts taking pictures of all different types and classes of people, and looks to have the perfect example of that person cast as his idea of it in his images. Later he begins to hide his work because of his fear the Nazis would find it and destroy it andd hides part it under the stonework in a fire place. Even though Sander believed in the eugenics, a part of the Nazi philosophy, He was not a Nazi and his son was killed by teh Nazis for being a communist. (http://www.masters-of-fine-art-photography.com/02/artphotogallery/photographers/august_sander_01.html) Sanders also photographs:
-Boxers-During the time of the Nazis, and shows the ideas of eugenics and how people look having an influence on Sander's work
-Bohemian-192f2
-Soldier-pic of a Nazi
-Konditor Koln-1928
-School Girl
Van der Zee is an upperclass African American, who is the son of parents who servied Ulysses S. Grant. He is born into the upper class life, and works mostly in the New York City/Harlem area, doing commercial and documentary phtoography. He is one of the first "event" photographers, going to locations, including people's homes, to photograph. (http://www.negroartist.com/negro%20artist/james%20van%20der%20zee/) His images include:
-WWI Vertan-1922
Future Expectations-1925 (he plays with a double-negative, having an image of a young child over the image of a newly married couple, insinuating where they will soon be in their lives)
-The Wedding Party-1926 (documenting an event)
-Couple Wearing Raccoon Coats-1932 (Harlem Renaissance style, in front of fancy car)
-Alpha Phi Alpha-1926 (Howard University, DC)
-Marcus Garvey parade-1920 ("back to Africa" idea-his goal was to take people to Africa to overcome racism- another example of an event photo)
-The Barefoot Prophet-1929 (showing this main with no shoes as a calm man of words, in a nice suit)
Earliest Street Photography
Atget photographs the "changing city" of Paris. He shoots over 10,000 images and sells them to whoever wants to buy them. He captures reality as he sees it and documents the changing city before it is lost. Atget is not too worried about composition and artistic technique and was more of a docoumenter. (http://www.masters-of-photography.com/A/atget/atget.html) Some of his images include:
-Ragpicker-1900
-Versailles-1905
-Costume Shop-1911 (records the way the streets/buildings looked)
-Water Lillies-1910
-Prostitute-1920
-Notre Dame-1925 (vignetting on edges because his goal was to capture, not to perfect)
-Avenue des Gobelins-1927-reflection of street in shop window
Social Documentary
These photographs have a social agenda and are not necessarily about art. The idea behind social documentary is to gather evidence to help bring about change, and photographers approach the subject with an idea of how they want to portray. It's propaganda.
Lewis Hine moves to NYC to join the Progressive Movement. His goal is to end child labor. This movement is more open to immigrants into the United States, and his images depict these people and the struggles of working children. He feels strongly that making children work will only create "human garbage," aka people who grew up the wrong way without any dreams or goals, and who will in turn mess up the next generation. (http://www.kentlaw.edu/ilhs/hine.htm) His images include:
-Italian Family-1905, Ellis Island
-Self Portrait with Newsboy-shows the child being exploited
-Tenement Rookeries-1908, Wash, DC
-Some of the so called helpers in Georgia Cotton Mill-1909
-Doffer Girl in New England Mill-1909
-Making Artificial Flowers
-Negro dying of tuberculosis
-Trapper Boy -1911(holding door open in dangerous coal mine)
-Breaker boys-1911
-Child Picking Potatoes-1912
Child labor is finally banned, then the war starts again and it is repealed due to labor shortage. Later, it is banned again. Hine moves on to record the human cost of war with "Man with Artificial Arm" and then moves on again to show the nobility of American workers, with:
-Negro girl-1920 (expert in linotype and a complicated machine)
-Power House Mechanic working on steam pump-1920
Hine becomes the offical photographer for the building of the Empire State Building:
-Man on Hoisting Ball-1931
-Icarus Atop Empire State Building
-Lunch Time and Smoke-1930
*this is the highlight of his career, capturing human achievement
Unfortunately like most photographers of the time Hine dies poor and destitute.
Jacob Riis is a post-Victorian photographer who is not as uplifting as Hine proved to be. In NYC, he records immigrants and the dangerous side of the city. His philosophy is that poverty=crime, and if people can't get it, they will take it:
-Blind Beggar-1890
-Minding Baby-1890 (kids in the streets)
-Children Sleeping on Mulberry Street (no shoes, cold winter)
-Bandits Roost-1888
-A Growler Gang-1889 (kids who pick pockets of drunks reenacting their work)
-Lodgers in a crowded Bayard Tenement-1890
-Italian Ragpickers Home-1890
-Women's lodging room-1892
-Mullins Alley-1890 (gangs form to stay safe)
-Black and Tan Dive-1890 (where black and white people would hang out-very scandalous for the time)
-the book "How The Other Half Lives" -this work tries to convince rich people to do something about poverty. (http://www.bartleby.com/208/)
Riis himself is a secular humanist, with no religious ties. He believes in the spiritual ideal that all humans are important. Riis still separated himself from his subjects as he beleived that they were part of the criminal element and beneath his social stature.
Early documentary photography works to make a change in society, and also shows what people do in their free time. It shows different groups of society, from the upper to lower classes, and gives everyone who looks at the images a first-hand account.
page revision: 5, last edited: 03 Aug 2009 23:43